Local arborists, DEDICATED TO PROVIDING EXCEPTIONAL SERVICES IN RUSHDEN
TREE SURGERY IN RUSHDEN, NORTHAMPTONSHIRE
Dependable Tree Surgeons Rushden
If you require a professional arborist with decades of combined skills and expertise to handle your tree care needs, then we can help. From removing multiple large trees to crown reduction, we'll swiftly address your needs.
Contact us to obtain your FREE quotation, and see how we can help you.
Welcome to Rushden Tree Surgeons
Your local, trusted arborist. Here to take care of all your tree care needs. We offer a vast array of services including the following:
Tree Surgery
We can help with all your tree surgery needs. From a large oak tree that needs removal to a small hedge.
Tree Cutting | Pruning | Trimming
When your trees need to be trimmed, pruned or even removed, we can help. All tree types taken care of.
Tree Felling
The process of cutting down either a single or multiple trees and disposing of all waste, branches & logs.
Crown Reduction
Crown Reduction removes weight from branches and allows the tree to be less 'top-heavy' & more healthy.
Stump Removal
After tree removal, the stump can also be cut below ground level to remove all traces and leave you with a clear area.
Hedge Cutting
Enhance your property with our professional hedge cutting. From a one-off trim to regular maintenance, we can help.
Emergency Tree Removal
From a loose hanging branch to a tree blocking a road or any emergency situation, we will be able to help. Contact us anytime.
Tree Reshaping
Transform the look of your trees with our professional tree pruning service, leaving them looking stunning and healthy.
Sectional Dismantling
Tree removal carried out in smaller sections to ensure no damage occurs to the surrounding area.
Dead Wood Removal
Removing dead sections and branches from a tree promotes healthy growth and can prevent disease from spreading.
Domestic Tree Surgery
We cater for all aspects of residential tree surgery. All works undertaken to the highest standard.
Commercial Tree Surgery
From builders to schools, we have many commercial clients. Call us if you also require commercial tree services.
We will ensure all your Tree Surgery requirements are swiftly dealt with. Contact us now on 01933 422 068
About us
At Rushden Tree Surgeons, we are dedicated to ensuring that the services we offer exceed our client's expectations. With decades of combined experience, you can be confident that you are in safe hands, and no matter whether your tree care needs are large or small, we will ensure we deliver the same high standard of workmanship on all projects we undertake. For the best tree surgery in Rushden and the surrounding areas of Northamptonshire, please don't hesitate to contact us anytime and schedule your FREE site survey. You can find out more about us here.
We also work closely with other local tree surgeons. One of our valued partners is Crown Reduction Mundford.
Here are some photos of our skilled tree surgeons hard at work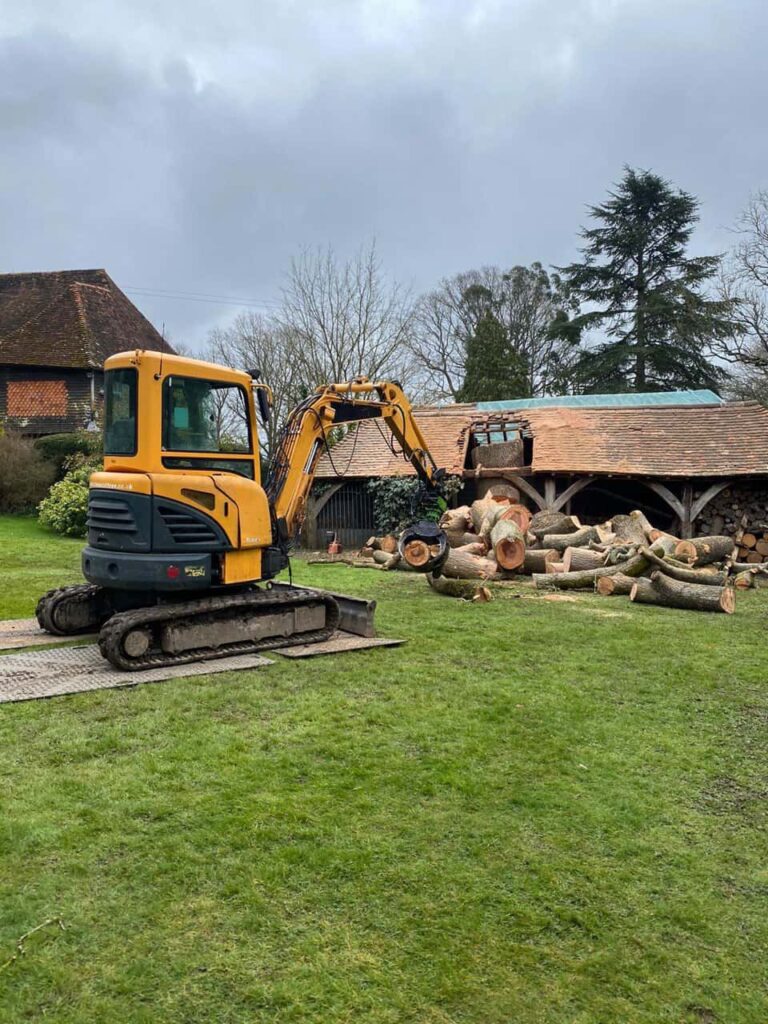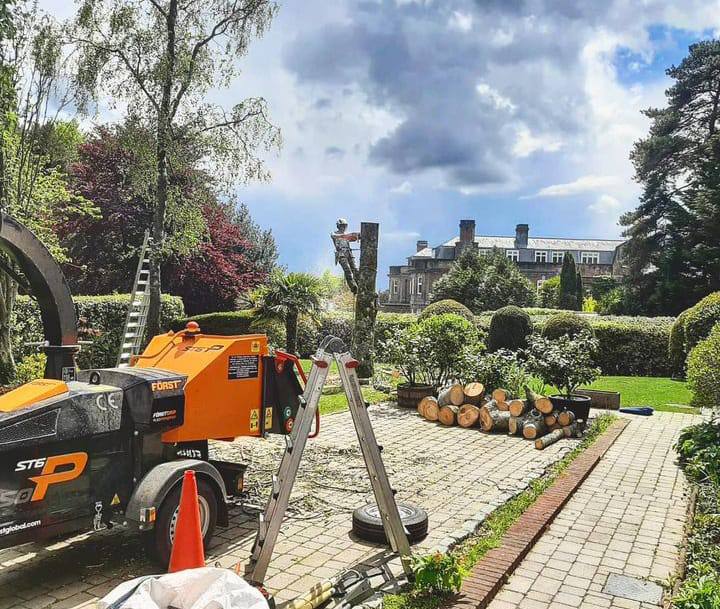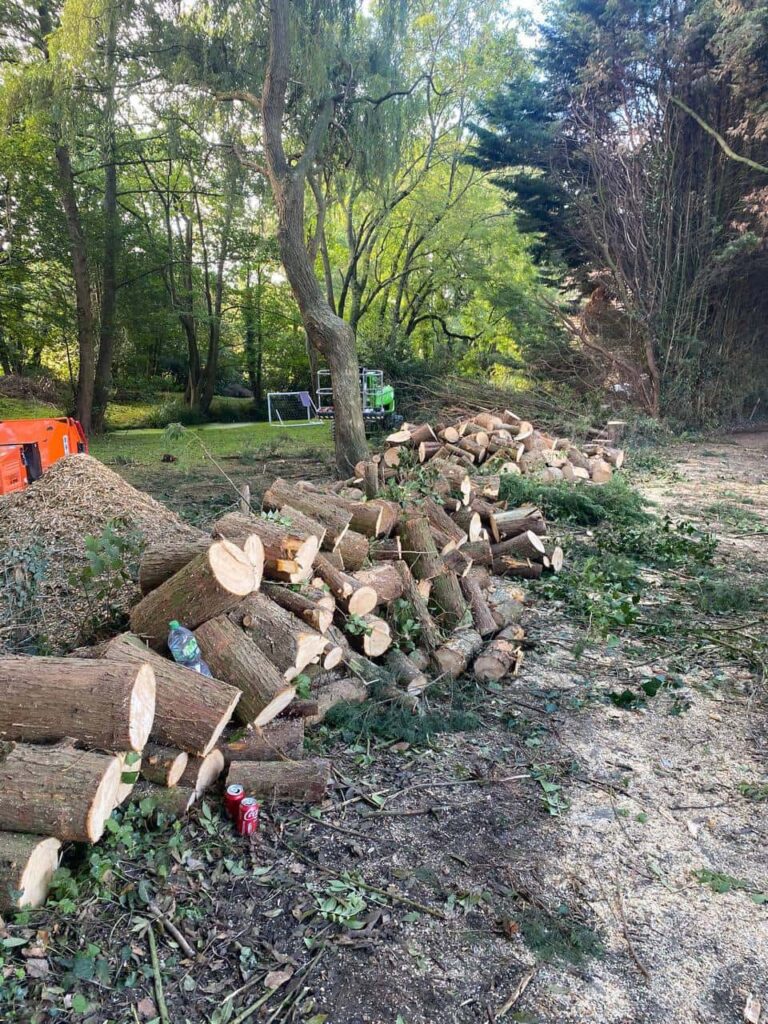 Other areas in the surroundings of RUSHDEN, NORTHAMPTONSHIRE where we can offer our tree surgery services in:
Tree surgery is an essential practice involving careful and skilled management of trees, ensuring their health, aesthetics, and safety. At our service, we pride ourselves on being your go-to solution for all tree surgery needs. Our team of highly trained arborists has the expertise to handle a wide array of tree-related issues, from pruning and trimming to complete tree removal.
Whether you have overgrown branches posing a risk to your property or require shaping for aesthetic purposes, our proficient tree surgeons are equipped with the knowledge and cutting-edge tools to tackle any task. We understand the unique needs of each tree species and provide tailored solutions, promoting their vitality while enhancing the overall appeal of your surroundings.
The Benefits of Tree Surgery
Engaging in regular tree surgery offers a multitude of benefits. Firstly, it promotes the overall well-being of your trees, ensuring longevity and robustness. Pruning dead or diseased branches enhances the tree's appearance and prevents potential hazards during storms. Additionally, expertly shaped trees can significantly augment the visual charm of your outdoor space, creating a welcoming ambience for your property.
Our dedicated tree surgery services ensure your trees' health, safety, and beauty. Entrust us with your tree care needs, and we will ensure your green spaces thrive and flourish.
What is tree felling?
Tree felling involves precisely removing trees, ensuring safety and efficiency. At Rushden Tree Surgeons, we excel in addressing all tree surgery needs. With skilled arborists, cutting-edge equipment, and a commitment to excellence, we guarantee top-notch services.
The process of tree felling
The process of tree felling begins with a comprehensive assessment, evaluating tree health, structural integrity, and potential risks. Skilled professionals strategically plan the removal, considering surrounding structures and environmental conditions. Specialised equipment, including chainsaws and cranes, ensures precise and controlled felling. Safety measures are paramount, encompassing protective gear and secure work practices, ensuring a seamless operation.
Reasons to fell your trees
There are various reasons to opt for tree felling. Diseased or decaying trees pose hazards, threatening property and lives. Trees damaging infrastructure or hindering construction projects necessitate removal. Additionally, felling is essential to promote healthy growth in crowded wooded areas, allowing remaining trees to flourish.
Our dedicated team understands these intricacies, providing expert solutions tailored to individual requirements. Whether emergency removals or planned tree surgeries, our services ensure professionalism and efficiency, making us your ideal partner for all tree felling needs.
Tree Cutting, Pruning, and Trimming are essential practices in maintaining the health and aesthetics of your trees. Each serves a specific purpose in tree care. Tree Cutting, often called tree removal, involves completely removing a tree from its location. This is usually necessary when a tree is dead, diseased, or poses a safety hazard.
Pruning is the selective removal of specific branches to improve the tree's structure and promote healthy growth. It helps remove dead or damaged branches and enhance the tree's appearance. Pruning also aids in maintaining the safety of your property by reducing the risk of falling branches.
Trimming focuses on maintaining the shape and size of the tree. Regular trimming ensures the tree remains aesthetically pleasing and doesn't encroach on structures or power lines.
We have a team of skilled arborists specialising in Tree Cutting, Pruning, and Trimming. We understand the unique needs of each tree and provide professional, tailored solutions. Whether you require tree removal, want to enhance your tree's health, or keep your landscape looking its best, we've got you covered.
If you have any further questions about tree cutting, pruning, or trimming or would like to book a free consultation with one of our arborists, please don't hesitate to contact us anytime. We serve both residential and commercial clients with top-notch tree care services.
Crown Reduction is a crucial tree care practice that selectively reduces the size and overall canopy of a tree's crown. It's necessary when a tree has become overgrown, poses safety risks, or encroaches on nearby structures or utility lines.
There are several reasons why you might need Crown Reduction. It helps maintain the tree's structural integrity by reducing the weight and stress on branches, preventing them from breaking during storms or high winds. It can also improve the tree's health by increasing air circulation and sunlight penetration into the crown, reducing the risk of diseases and promoting overall vitality. Lastly, Crown Reduction enhances your landscape's aesthetics by controlling the tree's size and shape.
Our tree care service specialises in Crown Reduction to address all your tree-related needs. Our team of skilled arborists is well-versed in the art and science of crown reduction, ensuring that your trees remain healthy, safe, and visually pleasing.
If you're looking for expert Crown Reduction services, please get in touch with us today. We are here to assist you with all your tree care requirements and offer competitive pricing for our professional services.
Stump Grinding removes tree stumps by mechanically grinding them into small wood chips. This technique is necessary after tree removal because tree stumps left behind can be unsightly and pose potential hazards. Stumps can be a breeding ground for pests, fungi, and diseases, impacting the health of your garden. Additionally, they can obstruct new plantings or landscaping plans.
We offer professional Stump Grinding solutions to meet all your stump removal needs. Our specialised equipment grinds the stump and its roots below ground level, ensuring complete removal without causing damage to the surrounding landscape. Stump Grinding enhances the visual appeal of your property and creates more space for landscaping projects.
Our experienced team is skilled in stump grinding, guaranteeing efficient and thorough removal. We understand the importance of a clean, stump-free garden and are dedicated to providing hassle-free services.
If you need expert Stump Grinding services, don't hesitate to contact us. We're here to assist you with all your stump removal requirements, ensuring a smooth and aesthetically pleasing landscape for your property.
Hedge Cutting is the vital practice of pruning and shaping hedges to maintain their health and appearance. Regular hedge maintenance is essential for several reasons. It promotes dense growth, ensuring your hedges remain lush and vibrant. Trimming also removes dead or diseased branches, preventing the spread of infections to the rest of the hedge. Moreover, Hedge Cutting enhances safety by eliminating overgrown branches that might obstruct pathways or structures. Well-maintained hedges not only contribute to the overall aesthetics of your property but also provide privacy and act as a natural boundary.
We are experts in Hedge Cutting, offering tailored solutions to meet all your hedge maintenance needs. Our skilled professionals use precision techniques to trim hedges to perfection, ensuring they look their best and stay healthy. Whether you have a formal hedge or a more natural boundary, we have the expertise to handle it.
Contact us today if you're seeking reliable Hedge Cutting services to keep your hedges in optimal condition. We're committed to ensuring your hedges remain healthy and look their best. Reach out to learn more about our hedge-trimming services or to schedule a free consultation.